By Kris Ostergaard
Two of our People Centered Internet community members contributed to the brand new anthology Ethics at Work: Dilemmas of the Near Future and How Your Organization Can Solve Them. This series of essays is compiled and edited by Kris Ostergaard. Mei Lin Fung, chair of the People Centered Internet, wrote back to back chapters with Divya Chander, MD PhD.and Faculty Chair for Neuroscience at Singularity University. Mei Lin's chapter was on Human Relationships: The Ethical Heart of Resilient Organizations and Communities and Divya Chander wrote Neural Sovereignty and Neural Rights.
The anthology is the work of the Rehumanize Institute, an innovation and knowledge community that has also recently launched The Responsible Business Podcast. The podcast features interviews from world-leading doers and thinkers around how organizations can move more responsibly into the future. Mei Lin Fung discusses her chapter in the anthology on the podcast.
To read the essay, click here.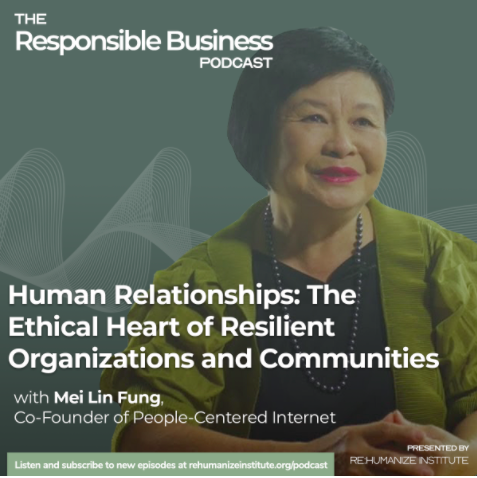 Mei Lin writes, "Inequality in incomes happens in part due to leaders who do not know how to lead in a networked world where the information they need is out there but they don't know how to ask for it, or even what to ask for".
This is available to purchase in hard-copy or Kindle edition online. To listen to the podcast, click this link.